Every parent is unique; every child is unique. All parents love their children, and all children love their parents—no matter how imperfectly. But do we truly take stock as parents of how we are imprinting our children through our daily interactions?
A child's identity is woven largely by the parental messages and responses (or imprints) that they receive throughout their childhood. As parents, we constantly imprint our emotions, attitudes, biases, values and principles, habits, and preferences through every interaction—consciously or unconsciously, positively or negatively. Conscious parenting requires us to respond in ways that build emotional intelligence in our children.
Estimated reading time: 4 minutes

Heartprints© are imprints that we make whether we know it or not. Being aware and more conscious of the impressions we are imparting is very helpful in raising children to become healthy, happy, loving, freethinking, and responsible young adults.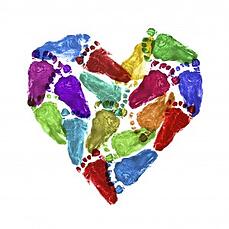 I don't think I have ever met a parent who hasn't experienced the weight of this enormous responsibility, even though they may not have defined their influence as heartprints. All parents want what is best for their children.
We as parents have a huge impact on our children—for better or for worse. We even mold our child's developing brain. In fact, 90 percent of the growth of the human brain occurs in the first five years of a child's life. The largest influence is through the child's emotional life impacted directly by his or her caregivers. By creating a safe, secure, and loving home, you maximize your child's brain development and help develop confident self-esteem through loving imprints. So how can we create more safety and an optimal environment for growth? Here are key elements to both.
Ways to Enhance Safety and Healthy Self-Esteem
Meet your child's needs upfront. Some basic needs include safety, love, exploration, belonging, being valued, and feeling heard.
Set loving and firm boundaries and limits.
Be empathetic toward your child's experiences and reactions
Speak at the child's vocabulary level to ensure understanding, especially when they are very young.
Take a child and teen's likes/dislikes, feelings, values, interests, and opinions seriously.
Give encouragement and support as needed.
Provide structure and routines appropriate for their age.
Support their burgeoning autonomy with respect.
Create regular opportunities and peak moments for connection within a loving relationship.
Model self-care and respect.
Take a few moments to ponder your values and your short- and long-term goals for your children and family. Visionary parenting that targets conscious actions for long-term goals helps to keep us on track as parents. Get in touch with what is most important to you and to your children or teens. Look honestly at your interactions with your spouse and children.
Do your heartprints need an upgrade? Are there areas where a little more patience or respect would go a long way to creating more peace? Is there a trouble spot that needs to be worked through to allow for more heart connection and stability?
With awareness, we can choose the quality of our imprints. You as a parent get to imprint your child with the love from your heart! These are your own personal heartprints©.
For parenting support or information about Heartmanity parenting classes and coaching programs, please email us at support@heartmanity.com.