One of the most important realizations we can have as parents is that it is children's job to test limits. They're really not trying to make our job as parents hard! In fact, children actually learn self-control from how parents respond to them in conflicts.

If you're about to blow, the best thing you can do is calm yourself. This way you are modeling self-calming for your children—and you are better equipped to reinforce the limit when you're calm. But what if your best efforts fail and you get into a battle with a child or teen about a limit you've set for them? It's especially difficult setting limits if you're parenting the strong willed child!
Following these steps will help you reinforce limits effectively.
Steps for Setting Effective Limits for Children and Teens
STEP 1: Check in with yourself. Self-calm as needed.
STEP 2: Get at the eye level of the child or teen to create safety. Avoid towering over them.
STEP 3: Establish friendly eye contact.
STEP 4: Clearly ask for what you want in a firm and kind tone of voice.
STEP 5: Empathize with any emotional reactions to help the child (or teen) feel heard.
STEP 6: Restate the limit clearly in a neutral tone of voice.
STEP 7: Acknowledge and validate the child (or teen) when the limit is respected.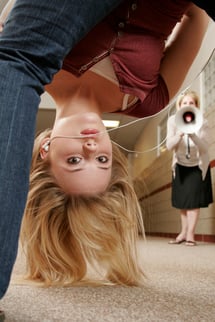 Remember, parenting is a challenging, full-time job and setting effectively limits takes practice. Be sure and take great care of yourself so you can be at your best!
And when your teen wants to defy you, be ready to use the steps above for more peace and better communication in your relationship.
For parenting articles or more information on this subject, please refer to the article "My Kids Are Driving Me Crazy!"

To find out more about setting effective limits, check out our Redirecting Children's Behavior course by Kathryn Kvols, which the above steps originated.
You deserve a full tool-box as a parent!
for our Heartmanity newsletter filled with parenting tips and proven tools to make your parenting job easier and more fun!