Heartmanity has a new home! We're so excited to share with you a fantastic office space in downtown Bozeman, with giant windows and a large room for conducting group programs and classes. This new Heartmanity Center will allow us to serve more people, start new programs that have been in the wings for several years, and support the community in a much bigger way.
My husband has finished painting the office space, and now we're busy furnishing it. This picture is of me getting ready to move a newly purchased, 7-foot Norfolk Island pine to my new center. It's beautiful and adds so much life to the big room. I'm also preparing for a whole list of new classes, such as, Hacking the Teen Brain, and Redirecting Children's Behavior parenting class along with a line-up of women's mentoring programs, such as WOW: Women on Wisdom and Leading from Within. Heartmanity's Grand opening is in October—don't miss the launch of our new future!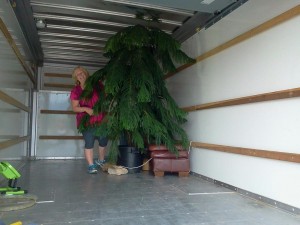 Thank you to to all who have encouraged me to expand my business. A great reminder to always dream bigger than you think you can handle while keeping your focus on practical steps.
A heartfelt thanks to everyone who has helped make this dream a reality. Whether you contributed in small or big ways, I am so grateful to each of you. It has been an absolute joy to know you and to be a part of your lives.
Thank you to those who believed in my mission and contributed financially. And a very special thanks to my beloved husband, who has supported me so incredibly and made so many wonderful things possible by his love and belief in me.
Thank you to every heart committed to cultivating safe, loving, and thriving marriages, families, schools, businesses, and communities. Without you, there would be no Heartmanity!
Cheers to a great future!