Last year amidst the COVID-19 Pandemic and social distancing, many employees started working from home for the first time in their careers. The idea of working from home sounds very attractive yet also comes with a whole different set of challenges. Some people found out that they lacked internal motivation. For those experiencing this situation for the first time, everyone's routines are turned upside down, especially since we also have children and partners at home. However, if you'd like to work from home, check out these helpful tips.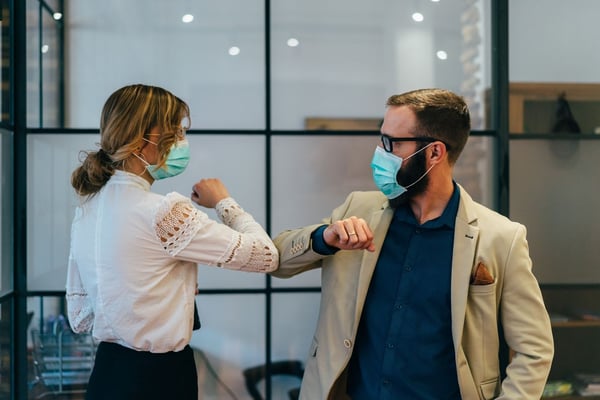 Below are some tips to help you and your family adjust to your new way of working and ensure that your days go more smoothly. The more order and structure you can create, everyone will know what to expect, and less stress will ensue, increasing the sense of security during a time of disruption and unrest.
Helpful Tips for Working from Home
1. Set up a dedicated workspace.
This space can be the corner of a room, your guest room, or any other space where you can have all the resources you need. Try to keep it out of a high traffic area; attempting to work in the kitchen or common area can lead to many disruptions or distractions, particularly when a fridge or TV is in the space.

2. Stick to your morning routine.
Maintain your bedtime schedule and morning routine as closely as possible. Avoid the desire to stay in your pajamas because that can affect your motivation and a positive mindset. If you are accustomed to exercising, meditating, or have comforting rituals such as coffee with your spouse in the morning or a daily call on the morning commute with a friend, these are excellent practices to stick to as well.
3. Set a start and end time for your day (if possible).
When you have the ability to set a start and end time for your workday, this can help you set priorities and a routine for you and your family. Providing a structure can help you plan your day as well as support your family to understand that those times are reserved for your work.
4. Set timers and small goals.
If you have a family at home, you may wish to spend some quality time with them during the day. Set small goals of focusing on specific work tasks for a set period and plan breaks to connect with those you love.
Setting snacks and lunch breaks can also help you refuel yourself properly and give comfort to your family, letting them know how the day will go. Discussing the schedule with your family and brainstorming activities will provide quiet for you and a fulfilling time for them. Include within the schedule any required household tasks with family members at home.

5. Support kids who are home with online school requirements.
This confinement at home is a great opportunity to work in a similar space and help your children with their schoolwork. What a fabulous time to set an example of good work habits! Right now, staying connected to your children is vital to reassure their sense of safety. They have had their lives disrupted and their social life dissolved, too.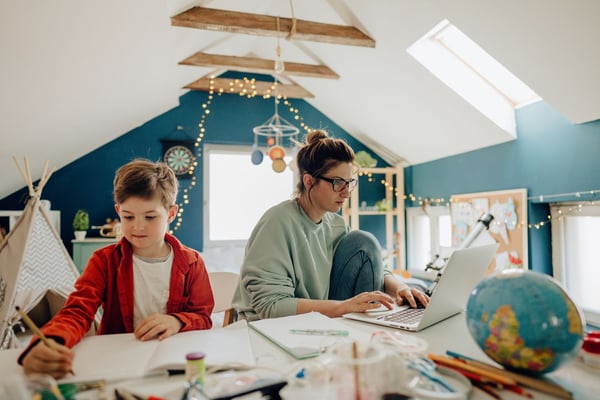 6. Plan out the next day at the end of your workday.
Take note of any conference calls or meeting times and list any unfinished tasks, then prioritize. Wrap up your work, tidy your workspace, and do not return to it until the following day. This commitment to keeping work separate from family life will help your mindset, and you'll more easily shift from work to together time and other home priorities.
Working from home can be very rewarding. By maintaining effective, focused work as well as maintaining personal priorities simultaneously, you will create stability and calmness. It does, however, require planning and focus differently than from an office workday. The above tips can help ensure you are productive and prevent frustrations and distractions. It will also enhance your ability to take care of yourself while enjoying your family.
Related reading: "Values and Work-Life Balance: What Is Most Important?"
Are you needing support and coaching? Try our complimentary Discovery Session or check out Heartmanity for Business.