Whether you're tying the knot with the one you love or helping a friend or family member plan their wedding, there are a lot of numbers to get straight in the process. Thankfully, there are tons of statistics to help inform your decision-making and spark creativity. You'll be surprised by some of the marriage proposal stats!
Estimated reading time: 3 minutes
Timing of Marriage Proposals Is Everything!
There's actually a popular season for popping the question and getting engaged; in fact, about 37 percent of couples get engaged between November and February of each year. The most popular days of the year to get engaged revolve around the winter holidays, with Christmas Day, Christmas Eve, and New Year's Day as the top three days for popping the question. That's no surprise since these days are occasions for reconnecting with family occasions and friends, and a time to spend together with your loved ones.
The planning that goes into a proposal is another big element of the time. According to Wedding Wire, over 70 percent of proposers made their final ring choice less than two months before the proposal. Of course, around 80 percent of brides giving hints about their ring preferences here and there could have certainly impacted the timing of the proposal.
Surprised? Or Maybe Not.
The statistics for the element of surprise that couples perceive in the engagement are a bit skewed. According to The Knot, 50 percent of proposers thought their partner was surprised by the proposal, while only about 33 percent of those receiving the proposal said they weren't expecting it.
The process of creating the perfect design for the ring can also be a dead giveaway that a proposal is coming. Proposers check out an average of 15 different designs before they make their final choice for a ring. Many report asking for direct input from their partner or those closest to their partner such as friends or family members. This request makes it harder to keep a surprise proposal under wraps.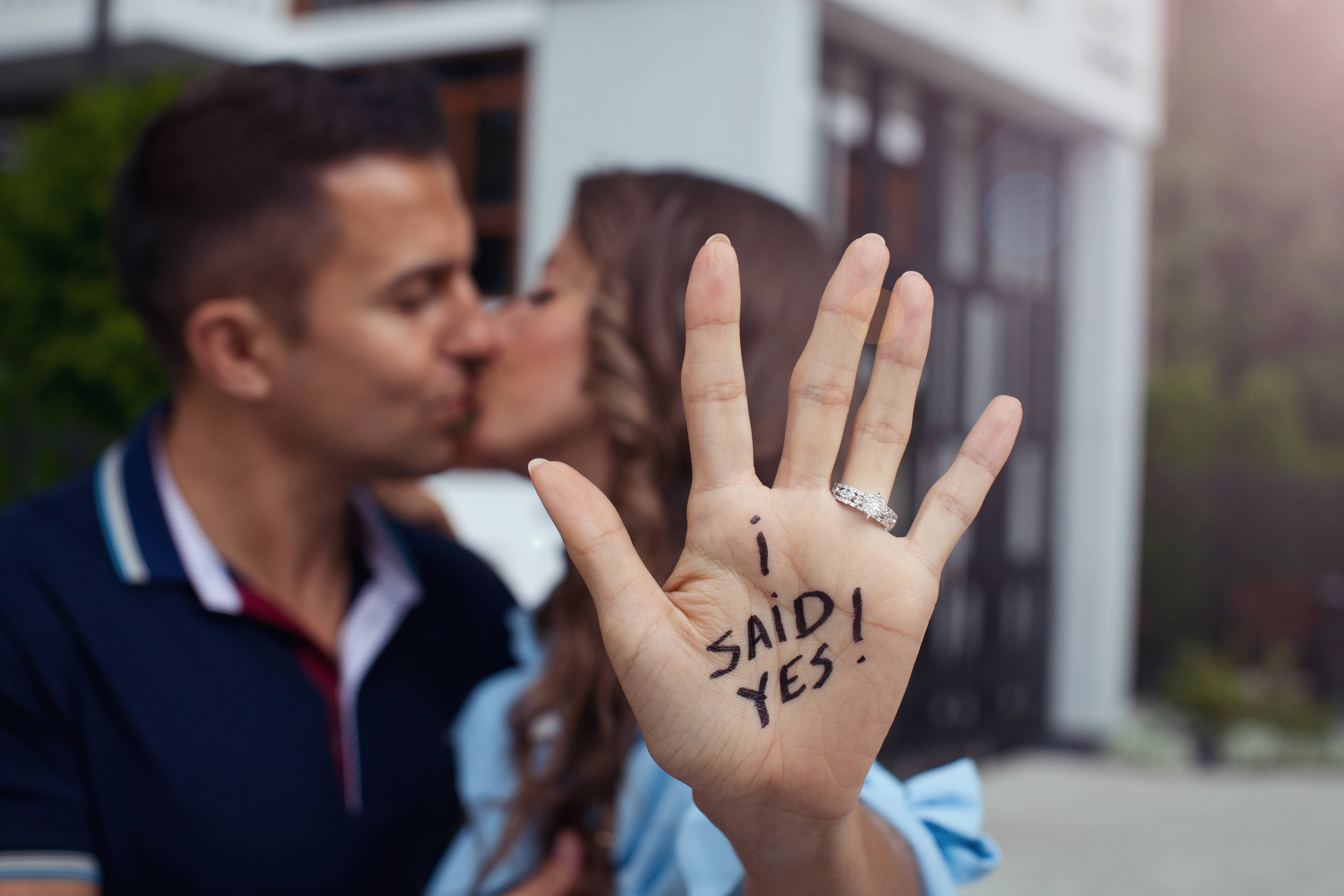 Posting Ring Photos of the Engagement
This fun fact might come as a surprise if you're a social (media) butterfly, but most people actually wait a day or two before posting their engagement photos on social media. This gives most couples a chance to call or visit their family members and closest friends to deliver the news in person. Taking this time to inform the people closest to you before you go viral on your social media feed is considered the polite and loving way to do it.
Family and friends may feel left out of the loop if you post ring photos before you even tell them you're engaged. So, this one- or two-day waiting period is a critical statistic to keep in mind when it's time to celebrate your engagement.
Related reading: "The Best Way to Prepare for Marriage Is to Savor Your Engagement."

The Price of a Marriage Proposal
It's no surprise that the most significant cost associated with a proposal is the ring. More than half of proposers reported spending more than $5,000 on the engagement ring, with 45 percent of couples opting for a custom-designed ring. Some couples (about seven percent) get the center stone from family, which reduces the cost of the ring drastically.
When it comes to paying for the engagement ring, only about 70 percent of proposers reported sticking to their budget, and more than 90 percent said they paid for the ring by themselves. For nearly three percent of couples, the engagement ring was a shared cost.
The Engagement in Numbers
Once the proposal is out of the way, it's time for you and your partner to enjoy the engagement period leading up to the wedding. On average, the engagement period will last for about 15 months. It's critical to take care of and keep up with your relationship during this time and not take it for granted. Almost 15 percent of engagements don't end in marriage, with the couple splitting up for a myriad of different reasons.
On the other hand, those who chose to do a course of premarital counseling during their engagement reported a 30 percent stronger marriage when compared to those who didn't do premarital counseling. So, you can see that this period of engagement is an important time to grow and strengthen your relationship before you say, "I do."
Main Takeaways
Going through the proposal and engagement may seem like a big, unknown experience, but many have gone before you. The statistics can help inform your decisions throughout the whole process, and hopefully bring a little peace of mind when it comes to making proposal and engagement decisions.
But at the end of the day, the love and relationship that you share with your partner are unique. Cherish this experience and season, and remember that you're not bound to the statistics! Trust your heart.
Related reading: Is It Possible to Plan a Microwedding and Keep Everyone Happy?
For support for wedding planning or premarital coaching or guidelines for a friend to officiate, reach out to Heartmanity. Start your relationship off right with skills to strengthen your marriage. Email support@heartmanity.com.
* If you'd like to reach out to the author, Margaret Bell, you can contact her at The Pearl Source.