Maybe you've seen the images? A white square superimposed over a picture of your friend, mom or coworker, an NFL quarterback, celebrity or news anchor. Inside the box, this phrase: "love has no labels."
This campaign—though "campaign" can't really capture its essence—is spreading, and fast.
The motto is simple, as the most powerful revolutionary thoughts tend to be: "Before anything else, we are human."
Personally, I cannot help but think of the opening to Pride & Prejudice, "It is a truth universally acknowledged that…" It seems painfully simple to say that we are human. Obviously, we humans are human. But as Austen goes on to muse about a man wanting a wife, Love Has No Labels turns a microscope on our assumptions.
If we are all human, why don't we act like it?
What is the ad campaign?
Love Has No Labels began with a commercial of dancing skeletons in 2015. The TV ad showed people dancing, embracing, celebrating and showing all types of love behind an x-ray screen. Once revealed, the skeletons became humans of all types, driving home the idea that love is indeed universal.
The skeleton video became the second most-viewed social activism video ever.
Next came WWE star John Cena in an ad titled "We Are America," highlighting diversity for Independence Day, and then Love Has No Labels took to the jumbotron. At the January 2017 NFL Pro Bowl in Orlando, FL, when kiss cam time rolled around, the camera zoomed in on all forms of love, from friendships to romantic love, families and humans of every color, race, shape, size and sensibility. That footage became its own ad, which went on to garner an Emmy Award nomination for Most Outstanding Commercial.
As an ad campaign, Love Has No Labels uses smart marketing and viral images to pull at humanity's collective heartstrings. As a movement, it is a reminder that love transcends all marketing and is universally captivating.
Know your own biases.
Beyond viral TV ads, Love Has No Labels is about education. The ultimate goal is to open each person's eyes to his/her own biases, and through education, end the discrimination that those biases can bring.
A quiz on the website gives everyone a chance to check their own hidden (or not so hidden) biases.
"To end bias, we need to become aware of it," says the quiz homepage. "Can you spot the bias within yourself? This quick quiz might surprise you." You can take the quiz for yourself here: lovehasnolabels.com.
This is a big cause, but then so is the world and so is the span of discrimination. This is why nation-wide organizations have combined to spread the Love. You'll find the Love campaign distributed through channels including the NFL, NBA, NHL, MLS, Upworthy, Tumblr's Post It Forward, Facebook, ESPN, VOX, Hearst and Publicis Media. The campaign taps into the expertise of six leading non-profit organisations including, Anti-Defamation League, Southern Poverty Law Center, Human Rights Campaign, American Association of People with Disabilities, AARP and Perception Institute.
The reason? The more diverse the platforms and widespread the publicity, the more people Love will reach. It needs to spread to everyone from midwest football fans to New England socialites, school children and CEOs.
"On Valentine's Day 'Fans of Love' highlights that love has the power to bring people together regardless of our differences – a message that is more important now than ever," said Lisa Sherman, president and CEO of the Ad Council, which co-created the campaign. "We hope that this new creative will encourage all of us to reflect on our own biases and the role we can play in creating a more accepting and inclusive world."
"It's a reminder that diversity and acceptance is America at its best," says Nick Law, Vice Chairman and Global Chief Creative Officer at R/GA, the agency that created all Love's ads pro-bono.
Can we all just be human?
You are accepting of other people, right? Tolerant of differences and believe that people should be treated fairly?
Eighty-five percent of Americans would say yes. That's a majority the likes of which are rarely seen in such a diverse and often divided population. Yet discrimination still unequivocally exists. If someone tells you otherwise, it's a good example of internal bias at work.
In practice, it's unexpectedly hard to act without bias. As the Ad Council points out, a lot of this has to do with unintentional discrimination. Ninety-eight percent of human thought takes place in our subconscious mind, when implicit biases are collected and perpetuated. Even unintentionally, these biases can have life-altering—even deadly—effects when they impact factors like someone's job, home, health, security or sanity.
From the Ad Council: "To end bias, we need to become aware of it first, especially in ourselves. The Love Has No Labels campaign targets all Americans and aims to combat bias, by flooding culture with messages that are inherently non-bias...we didn't just insert our message into culture, we changed culture."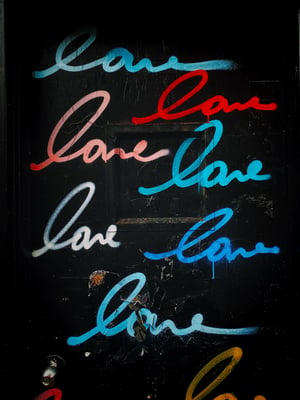 We denounce discrimination. We say we are accepting. Still, implicit biases can be hiding inside our brains. The first step to fixing this is awareness. The more we self-assess and get inspired by stories of love that go beyond race, religion, gender, sexual orientation, age and ability—the more we can thrive collectively as human.
Here is one example of how one young human shared the campaign:
On TeenInk.com, a site that gives young writers a platform for sharing their essays, a teen from Dutch Harbor wrote this in an essay titled No More Labels:
"Love is defined as an intense feeling of deep affection. I've known what love is since I was a child, but as I got older I've seen so much pain in our world due to others treating each other so poorly. The definition never says anything about who you should love. It ties in with passion and respect for one another, not with gender, race, sexuality, religion, etc. Everyone should be able feel that strong passion and give others that distinctive sensation. Love has no labels and we're are all human, but why are we treating others like they're not?" "No More Labels" on Teen Ink
Why are we treating others like they're not human?
Become the Face of Love
One powerful solution that the Love Has No Labels campaign has hit on the nose is our human affinity for faces. When you see a human face, your brain triggers a chemical reaction that you experience as recognition, similarity and possibly affinity. Putting a face—or in this case, thousands—to the campaign is one of the most powerful ways to reiterate our shared humanity.
Love, especially when it comes to Valentine's Day, does not come in the shape of a diamond. If anything, it comes in the shape of the human face.
On the site, a Faces of Love tool lets people superimpose their own images with that white square and the words ""love has no labels." You can try it out yourself: lovehasnolabels.com.
There are plenty of ways to connect with and support this campaign. Between Facebook, Twitter, Instagram and the campaign shop, you have plenty of ways to get involved.
Perhaps the best way to help Love Had No Labels? Get educated. The takeaway comes back to a topic that we discuss a lot here at Heartmanity: Emotional Intelligence. Take a good look at yourself, the neuroscience and social shaping that makes you you. Educate yourself about how you function and how the world around you plays a part in your life.
Know your own labels.
Then we can move together toward that quippy Austen line: "It is a truth universally acknowledged…"
It is a truth universally acknowledged that love has no labels.
For ongoing support and tools for creating healthy relationships and healthy love in the world, visit Heartmanity often.