Recently, I ran into my dear friend, Merissa. She is a local photographer in Bozeman, Montana, who photographed some family photos for my family, and my husband and I's wedding. As we caught up on how our lives were going, Merissa shared some shifts in the wedding industry and how her business changed with this year's trends. An increasing trend she is seeing is twofold: 1) a new way to define elopements and 2) increased popularity of elopements.
Estimated reading time: 5 minutes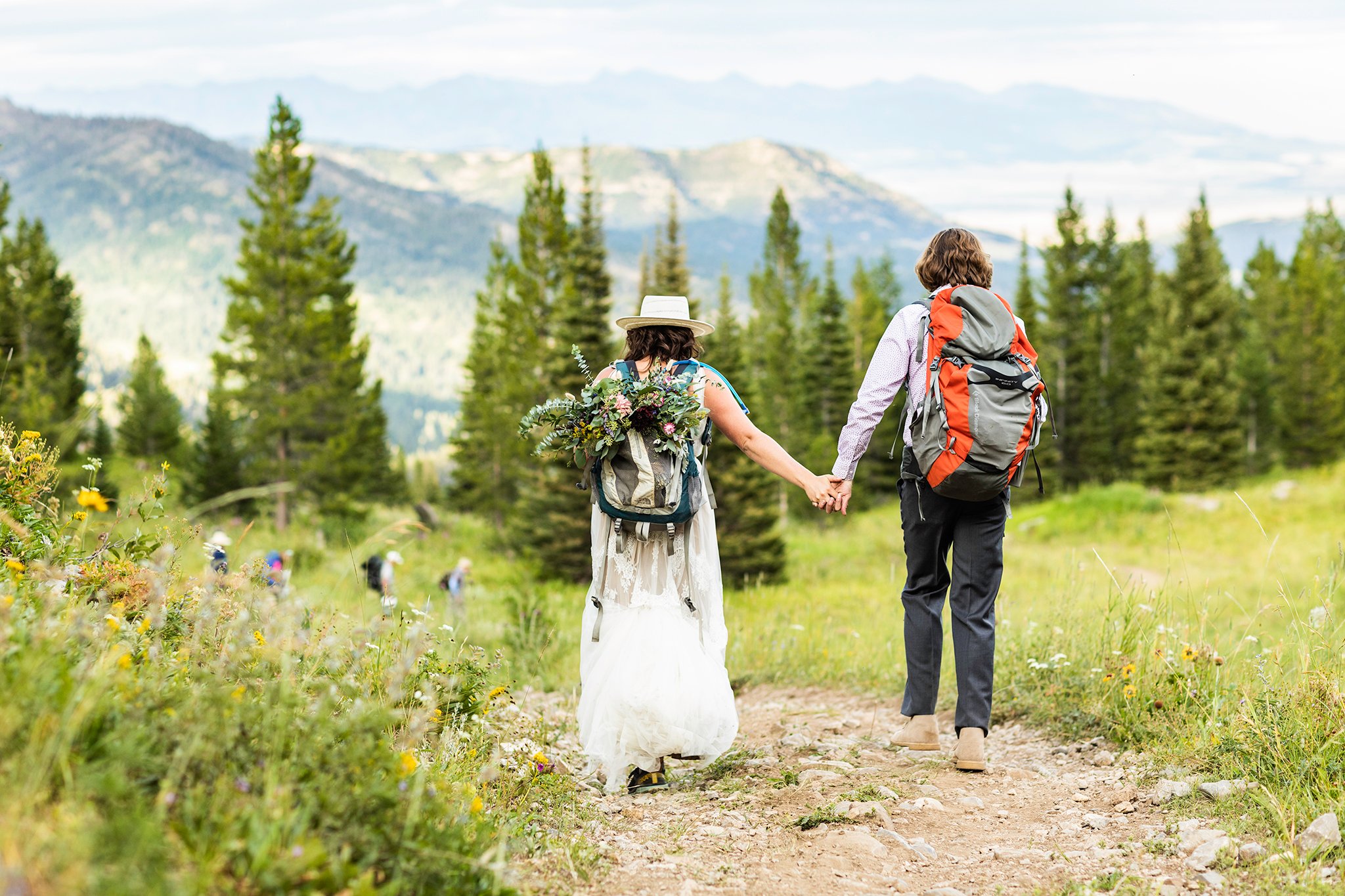 Photo credit: Merissa Lambert
What Is an Elopement?
The term elopement has changed in recent years, particularly amidst the COVID pandemic. The Merriam-Webster dictionary published an article, The Changing Meaning of 'Elope.' They defined "elope" as a marriage conducted without the knowledge of the couple's family and friends, particularly their parents. Previously, those who eloped often had only a ceremony with several witnesses—no guests, no reception, and no celebration for guests following the ceremony. Historically taboo, today's elopements are being redefined by couples to mean something completely different.
The New Trend of Elopement
The newly defined elopements are sometimes held in destination-type locations or places close to home that are special to a couple. The common theme in elopement that remains consistent today is that the term means "escape." An escape isn't just about marrying without the guests, but also escaping the pressures of traditional weddings, the complicated dynamic of blended families, and the increasing cost of weddings.


Photo credit: Merissa Lambert


The growing trend of eloping wasn't born from COVID; however, COVID is certainly magnifying a change in how people are marrying. However, today's elopements are becoming intimate weddings rather than couples secretly running off to get married. Couples are reaching out to photographers, officiants, and other wedding industry services wanting small intimate weddings with few or even no guests. These weddings are often in remote locations with simple set-ups that create unique experiences.
Related Reading: What Is an Elopement Wedding?


Why Are More Couples Choosing to Elope?
The common theme among today's elopements: couples are creating a ceremony and journey about them instead of focusing on their guests. By making the event couple-centric, couples "escape" societal norms and the many expectations of a traditional wedding. Couples include traditions and symbols that are important to them in a way that most honors their relationship while setting the tone they wish to set for their marriage.
Related Reading: "How Wedding Anniversary Symbols Support and Strengthen a Marriage."
A quick internet search comes up with countless articles to help couples plan their elopement and navigate their decision with loved ones. This year, in particular, couples are choosing more intimate ceremonies over large occasions. These private, intimate ceremonies are packed with meaning and elevated emotions for couples. Prohibitive costs of weddings along with Covid-19 restrictions at locations, such as the limited number of guests and social distancing requirements are eliciting a new generation of wedding ceremonies. Therefore, couples and vendors have opportunities to discover new ways of thinking about weddings.
3 Considerations for Planning an Elopement
For those who love the idea of modern-day elopement, this new style may sound like a stress-free decision and process. Although elopements do come with fewer strings attached, some details of the process might still create some challenges so let's look at a few common ones.
Possible Obstacles to Overcome
1 - Friends and Family May Have Strong Feelings and Opinions
Elopements go against the grain of the traditional wedding structure. Friends and family may be hurt that they will be excluded or denied a role in a wedding. And people love celebrations and parties! Family and friends also enjoy honoring people that they love. They may struggle to understand the reasons and decisions chosen by the couple.
Related Reading: "Taming The Flood of Contradictions in a Wedding."
2 - Unusual Locations May Not Work for All Vendors
Although there are fewer people to consider for an elopement, ideas may not work for involved vendors. Merissa loves the adventure and creativity that comes with elopements, but all photographers may not feel the same.
When choosing a remote destination for weddings, guests may not want to hike to the top of a waterfall. People may be uncomfortable traveling in the lingering climate of the pandemic. And crossing a river with even a small cake might be tough. Considering how all the details work together when planning an elopement is important.


Related reading: "Is It Possible to Plan a Microwedding and Keep Everyone Happy?"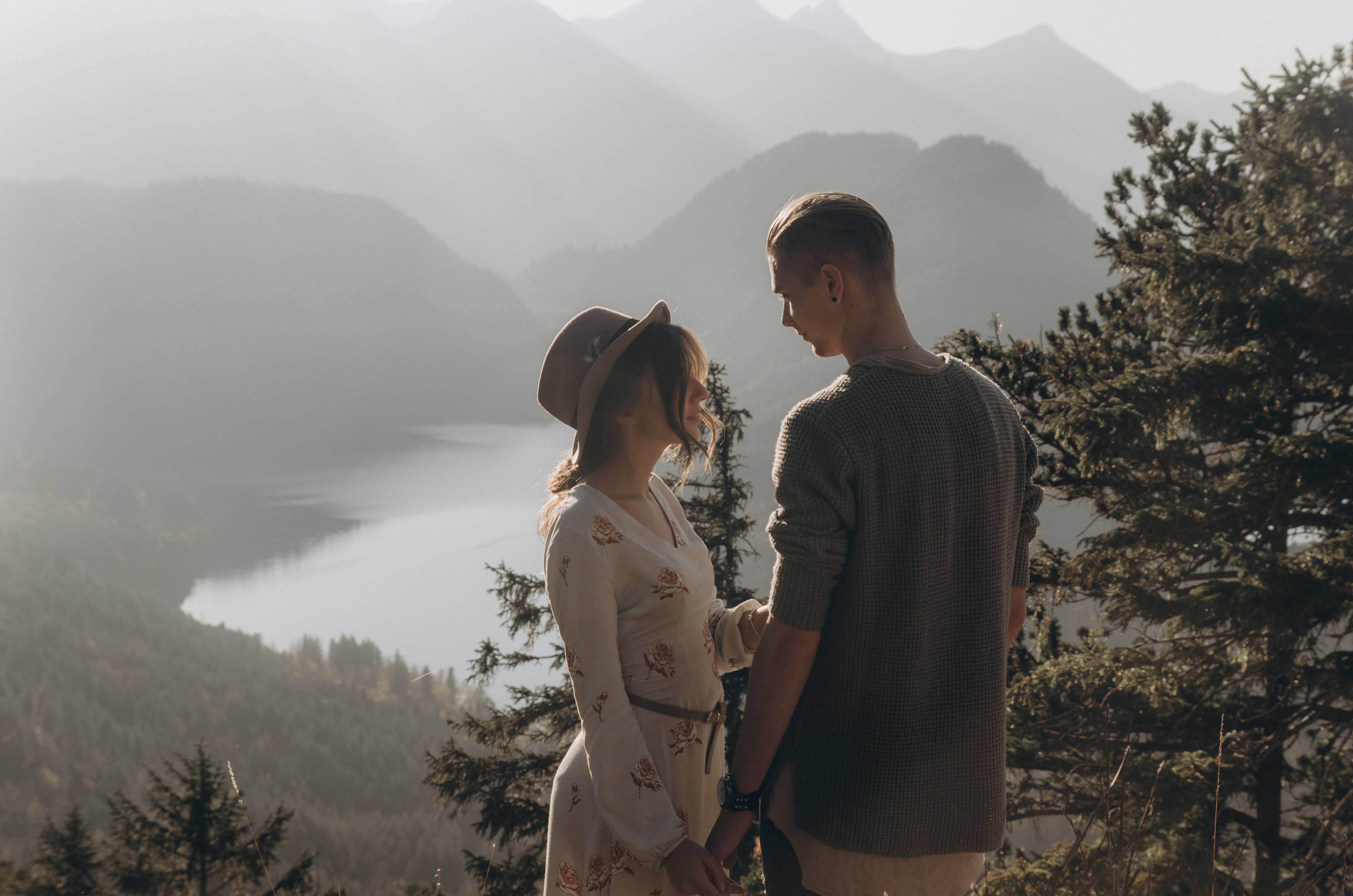 3 - Flexibility Is a Must
The more adaptable the bride and groom, the easier the wedding planning and the flow in any wedding process, which improves the experience. Many elopements are planned around experiences with gorgeous natural backdrops or hard-to-reach places. The advantage of an elopement is flexibility; after all, there are fewer moving pieces. A small ceremony has fewer schedules to work around and the date can be easily moved for ideal weather. Whether the choice is an elopement, micro-wedding, or a minimony (yes, it's spelled correctly… part of the new trend), all can be beautiful, unique, and meaningful.
No matter the type of wedding chosen, what is most important is to honor the couple's love commitment and relationship. A wedding sets the tone for their lives together. It's not just about the wedding, but the future of a long-lasting and happy marriage.
Let us support you on your journey. Get the skills to ensure your marriage and relationship grow happier and stronger with every passing day.
Heartmanity is here to help you build drama-free marriages. Reach out to us today at support@heartmanity.com.