In a loving relationship or marriage, there are certain critical keys that open the door to more love. And it is communication in marriage more than anything else that makes or breaks a relationship. We all have a deep need to feel heard and understood. Though this need is vital, it can often interfere with our ability to truly hear our partner, especially at heated moments.
After several decades of marriage, I have found that keeping my mouth closed and my ears wide open helps immensely to carve the way to rich and robust communication.
Many years ago, my husband and I were having a conversation in which he was revealing something that had happened during his day and how it impacted him. I listened and then responded in a way that led us down a different path than the subject he had initiated. Abruptly, he turned to me and said, "It always ends up being about you, doesn't it?"

I was totally unaware until that moment that I had cut him off inadvertently. His comment may have hurt at the time but it was a very important lesson for me and he was right.
After getting over the tinge of hurt, a light bulb switched on in my heart and head. I realized how much I was limiting our relationship by my unconscious habit of dominating our conversations. This propensity denied me the opportunity to really know and appreciate my husband, the person I claimed to love most.

Sometimes we're just too full of ourselves to have any room for those we love. When we are talking or intent on sharing our own ideas and opinions, we are often unable to truly understand or appreciate what the other person is trying to convey. We then miss the chance to be enriched by the insights and musings of the other person's private universe.
Related reading: "How to Improve Communication to Create Drama-Free Marriage."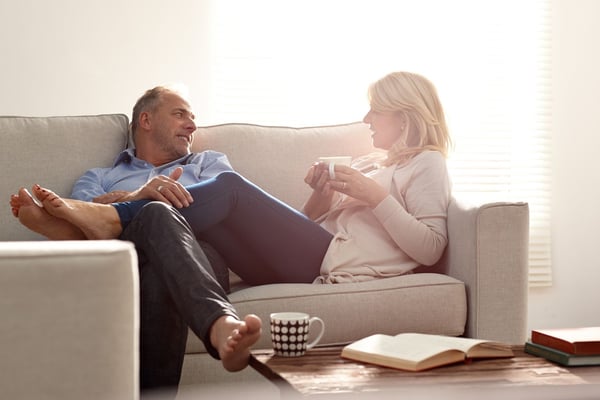 How to Communicate Effectively in a Relationship
Ask yourself, "Am I competing with my partner to be heard?"
When working with clients, many times I tell them that if you don't feel heard, you're not listening. Immediately there is great objection. They defend themselves by saying things like "Don't I deserve to be heard?" or "Why should I listen to someone who is unwilling to listen to me?" It seems like an oxymoron, doesn't it? However, we cannot understand another person without listening to their thoughts, feelings, opinions, concerns, values, desires, and dreams.

It takes some mindfulness and self-control at first. There were—and occasionally still are—times I have to bite my tongue as a reminder to stay quiet. At the gate of my mind, there is a rushing torrent of ideas eagerly pushing me to blurt out words. However, when I refrain, the rewards are exhilarating and the mental and emotional intimacy very fulfilling. And whatever we practice gets easier.
Related reading: "The Best Marriage Advice: An Intentional Marriage Is a Happy Marriage."


An Experiment in Listening
Try this experiment for a month: Every time you feel unheard by your partner, stop and ask yourself, "How well have I been listening?" or "How have I been shutting my partner down lately?" The answers will surprise you. Then create an opportunity to sit for conversation and sincerely show interest and appreciation for your partner. Empty yourself of what you want to say and truly listen. Attentive listening is key to communicating effectively with your partner.
Now, enjoy the closeness that will magically blossom in your relationship.

After all, as the saying goes, there's a reason why we have two ears and only one mouth. Find more love in your relationship immediately by shutting your mouth and opening your ears. The simple act of closing your mouth can reap some profound rewards!
If you'd like marriage coaching or relationship help, email us at support@heartmanity.com. And sign up for Heartmanity's newsletter to get more great relationship tips and marriage advice.