Letting go can be a little uncomfortable or it can be painful and arduous. You can be saying goodbye to that extra 25 pounds, an outgrown friendship, or moving to a new home. You could have just sent your preschooler to 1st grade or your teen off to college… Or letting go can be much, much tougher, like grieving the loss of someone dear to you.
How would your life be different if you could have regular support, connection and inspiration that you could count on several times a year?
That's the mission of WOW. Imagine sharing the afternoon with amazing women of all ages!
(The last retreat we had women ranging from 20 to 86!) Not only will it be profound and life changing, it will be fun!
The topic? Letting go.
Letting go is a big part of life's dance….and yet we resist it, we fight it, we avoid it.
No matter who you are, I guarantee that you need to let go of something!
Change requires us to let go every time we grow! Every time we change. Every time we lose something or we're in a new cycle of our lives, we need to let go of the old to welcome the new.
We had raving reviews from those who attended our mini-retreats.
This one will be even better!
For those of you who attended, join us once again! We look forward to seeing you! At your request, we extended the retreat. If you register right away, you'll get the same deal as the last retreat. (And yes, we listened, this November, there'll be more time to get acquainted and share amongst yourselves!)
HIGHLIGHTS to look forward to:
Opening meditation by Karen Mitchell.

As an intermediate meditator, Karen committed to a daily practice and has experienced profound insights and personal shifts. She is dedicated to growth and transformation and will share her experiences as well as lead you through an opening meditation to start us off. Meditation and mindfulness practice is a regular element of WOW retreats, providing you with a grounding tool and a powerful, brain-based key to emotional and mental well being.
The Power of Change, by Jennifer Williams.

As the founder of the Heartmanity Center and WOW: Women on Wisdom mini-retreat, Jennifer will present an inspiring presentation on how to gracefully embrace change through self-acceptance, letting go and the process of transformation. She will give you priceless and practical skills to get in touch with what is holding you back. AND she'll introduce you to the YOU who is longing to let go and thrive!
Guest local musician, Kate Bryan

inspires people of all ages to experience the connecting and healing power of music. She teaches Music Together and is the founder of GirlSing Camp. Kate also conducts several choirs and is known as a creative spirit catalyst! Her love and passion will lift us all as music beckons our hearts in ways nothing else can.
Food For Thought

will provide yummy snacks and refreshments you won't want to miss! Can't wait!
Interactive exercises to shift and awaken your best! Fun, unobtrusive exercises are often exactly what is needed to quicken learning and enhance integration. We have a special activity planned that is everyone's favorite wherever Jennifer travels.
Group discussions and thought-provoking conversations with incredible women! One of the richest experiences of all is sharing our inner wisdom with each other. This precious time was so popular at the last retreat that we've extended the afternoon to ensure you get a lot more!
LEAP into your best self!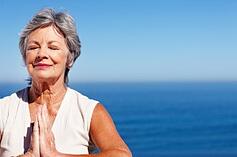 In this retreat:
explore new skills & perspectives for letting go
learn proven keys that will help you shift more easily
Ÿdiscover brain science that will fascinate AND empower you
commune with fabulous women and kindred spirits
walk away with effective tools for letting go and living full out!
Are you ready? Whether you're taking baby steps or leaping into a whole new life or relationship, letting go is easier with support and knowledge.
In this retreat, you'll experience deep shifts and you will open up to new ways of thinking, feeling, and being--access your true self and its wisdom that may be hiding behind the layers of busyness and responsibilities.
Stretch... Leap!
Together we can shape a community where everyone can find the support, connection and wisdom they need to thrive!
What past participants had to say about our last WOW retreat:
"Loved the energy that developed throughout the afternoon. The last exercise was my favorite. When everyone was able to identify what it would be like to have a community of support to count on."
"After attending WOW, I feel more peace from within and am learning to trust myself."
"Absolutely! I would recommend this retreat to a friend because it's amazing to find a community of support that is POSITIVE and ACCEPTING"
"WOW was an opportunity to hear and share struggles and triumphs with other women in a peaceful environment. It is a positive, nurturing gathering of women ready to grow and choose new beginnings for their lives."
DATE OF EVENT: Sunday, November 3rd, 2013, 12:30 - 5:00 p.m.
At the Heartmanity Center in
Bozeman, Montana

* These events have been postponed until further notice. Check out all the other wonderful women's retreats offered in beautiful Montana!