Heartmanity is proud to introduce you to our private retreat chef, Sarah Knecht and her cookbook, "Yumtwist." Sarah's love and passion for cooking was passed on to her from her grandmother and she does an awesome job of honoring her family and their traditions within the cookbook itself. In fact, it gave us the idea to reach out to you.
Here's an excerpt from the book, "Yumtwist - to entwine with another to inspire creativity; interlace ingredients, textures, flavors, and styles. To interweave color, design into unique beauty. To add a yumtwist to something and create something new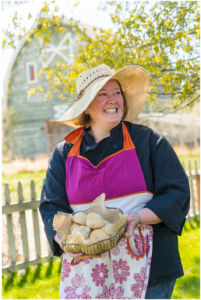 that is different than the original. To challenge someone to be spontaneous, fun, and intelligent with a new perspective.
We'd love to hear what recipes and rituals bring your family together during the holidays! How do you make your gatherings special? We're looking for ideas we can pass on to parents to help build strong and happy families.
Sarah has also opened a very successful cafe in Livingston, Montana, which even appeared in People magazine for its popularity.
Check out Sarah's website here.
Meet Chef Sarah Faye