When I was growing up, my oldest brother was a national chess champion—at least through my young eyes. He taught me a lot about the game, and chess taught me about the game of life. Chess is an extraordinarily complex game with unlimited possibilities. For example, after only three moves apiece, there are more than 10 million possible placement combinations of the pieces! Each decision made in chess paves the way to success or failure, just as in life and relationship.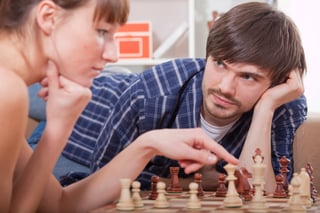 Both in chess and relationship, if we get too focused on our own plan without being attentive to our partner, we lose in this fascinating game. Champion chess players sometimes have up to eight to ten moves ahead in their mind with multiple strategies, depending on their opponent's tactics. That requires a lot of focus!

In a game like Chutes and Ladders, we may get frustrated when we land on a square that sends us sliding back to the beginning, but there really isn't much challenge. The game is quick, no skill is required, and very little is expected of us. We can play the relationship game like Chutes and Ladders, which requires little effort and the outcome is left to chance, or we can play the game of relationship like chess. Chess requires an investment of time, commitment, focus, and skill. What we bring to the game of chess determines the outcome. So it is in relationship.

Perhaps Chutes and Ladders was fun when we were kids, but landing at the same place in an unhappy relationship over and over is anything but fun. When we are sliding in a relationship, there is a sense of falling out of love. We forget to do the small loving acts that cement our connection. We pay too much attention to our work and too little attention to our partner. We are distracted, and we are not concentrating on what is most important to us. This is a recipe for disaster in chess and in relationship.

When we are careless in chess, our pieces are jumped and the game quickly and abruptly ends in checkmate. If we do not train our mind to look for opportunities, we miss moves that would have enabled us to win. If we invest time and energy to govern our mind, we get better and better at the game—both in chess and in relationship.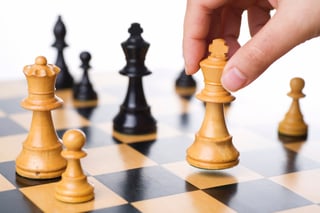 Most relationship troubles stem from not paying attention to the health of our relationship and/or to our partner.
Here are some simple yet vital moves in the game of relationship-chess. These small strategies will create more fun, bring out the best in you, and make it far more likely that your relationship will achieve new heights of success and closeness.
Strategies to create more fun and bring out the best in you!
Give your partner the same interest and passion you give to your work or your favorite hobby.
Carve out time every day to converse and truly listen to each other.
Pay attention to what makes your partner happy and brings a smile or a laugh. Do at least one of these things every day.
Focus on what you can do for the relationship to be successful, not on the things in the past that haven't worked.
Shake up monotony by daily acts of random kindness—something unexpected. This unanticipated act could be to greet your husband with his favorite cold drink when he gets home from work; it could be to write a note of appreciation for your wife and hide it for her to find later. It could be a loving text message or a short phone call just to connect. Just like in chess, the possibilities are limitless!
It's up to you how you play the game. What's it going to be—Chutes and Ladders or chess?